Even though giving healthy dog preventatives may seem strange, providing basic canine care which includes flea, tick, and heartworm prevention is an essential part of regular dog care. By protecting your pet from these situations, you can avoid dangerous disorders including infections, parasites, and a host of other related issues.
However, picking a flea and tick preventative for your pet might be challenging. With so many alternatives available, choosing the best suitable preventative or treatment for your furry friend can easily become overwhelming. Fortunately, Best Vet Care has all the options that veterinarians highly suggest. Consequently, Bravecto and Simparica Trio stand out as the two major and most effective parasite treatments when it comes to parasite protection. Here are the specifics and comparisons, in case you are unaware of them.
Let's get straight into more about our comparison of Simparica Trio vs Bravecto.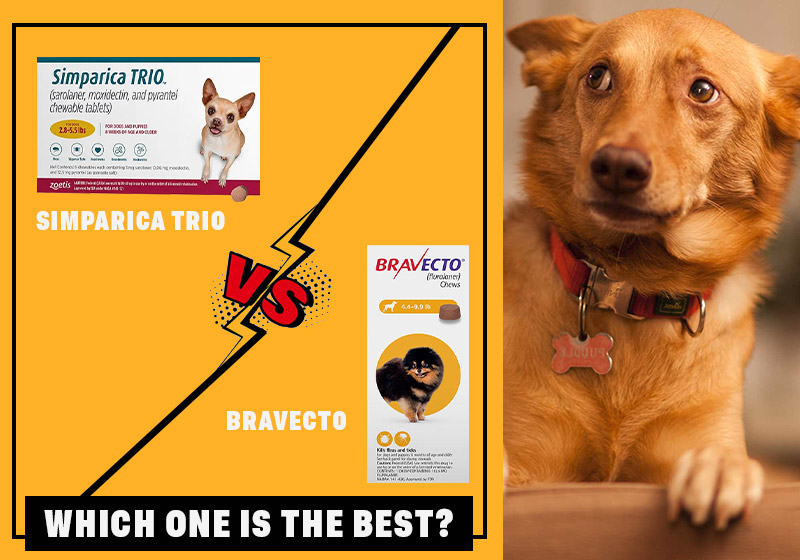 What is Simparica Trio for Dogs?
In addition to the standard product, Simparica Trio has additional active components like moxidectin and pyrantel that provides flea and tick protection and also prevents worm effectiveness and heartworm disease prevention. The combination of three active substances (sarolaner, moxidectin, and pyrantel) is used to treat and control flea, tick, intestinal worms, and heartworm disease in dogs.  It has been formulated in a tasty liver-flavored chewable tablet to be administered once a month for parasite protection.
Designed in a variety of pack sizes, Simparica Trio is available in 3, 6, and 12 doses in a chewable tablet form for different dog weights and sizes. In contrast to trying to administer a topical dose that could be uncomfortable to dogs, most dogs appreciate chewable tablets like treats.
These chewable tablets should be given once every month, and they work for 35 days (providing a few extra days of protection). It is suitable for dogs over 8 weeks old and weighing 2.8lbs or more.
Simaprica Trio Key Points:
Tasty liver-flavored chewable tablet
Protect effectively against parasites for 35 days
Effective against 5 types of ticks
Prevent heartworm disease in dogs
Treats and controls roundworms, and hookworms
No adverse reactions with other ongoing treatments
What is Bravecto for Dogs?
Bravecto is a flea and tick prevention treatment containing an active ingredient; fluralaner — a systemic insecticide and acaricide that provide parasite protection for up to 12 weeks. It can be administered to dogs through a chewable tablet (Bravecto Chewable for Dogs) or topical solution (Bravecto Topical for Dogs).
For pets with exceptionally sensitive stomachs or those that are very picky about treats, a topical solution may be chosen over an oral tablet. On the other hand, for pets that handles oral preventatives or treatments well, chewable is a much simpler option and does not expose a sensitive pet to skin irritation or the chance of coming into touch with the liquid solution.
Bravecto works well on fleas and ticks but not on worms. It just needs to be administered once every three months as it will last for 12 weeks. The chewable tablet is formulated in a tasty pork-flavored chewable tablet that is widely accepted by most dogs. This long-lasting chewable oral treatment starts eliminating fleas within two hours and ticks within 24 hours. There couldn't be the easiest method to ensure that your dog is fully protected from fleas and ticks for 12 weeks (three months).
Bravecto Key Points:
Tasty pork-flavored, hydrolyzed chewable flavored soft chew
No adverse reactions with other ongoing treatments
Begins to kill fleas within 2 hours of administration
Eliminates ticks within 24 hours of administration
Available in both oral (chewable) and topical (spot-on) formulation
Designed in both chewable and topical forms
Remain effective for 12 weeks (3 months)
Comparison Chart of Simparica Trio and Bravecto
To condense the above information into a concise segment, the following comparison chart will summarize the features discussed above. It can help you compare both treatments at one glance.
| | | |
| --- | --- | --- |
| FEATURE | BRAVECTO | SIMPARICA TRIO |
| Eliminate Fleas | Yes | Yes |
| Eliminate Flea Eggs and Larvae | Kills newly emerged fleas before they can lay eggs | No |
| Eliminated Ticks | Yes | Yes |
| Prevents heartworm disease | No | Yes |
| Coverage for other parasites | No | Protect against intestinal roundworms and hookworms |
| Safety | Safe for use in breeding, pregnant, and lactating dogs | The safe use of product has not been evaluated in breeding, pregnant, or lactating dogs |
| How long does it take to work | Starts to kill fleas in 2 hours | It starts to kill deer ticks within 8 hours, and fleas within 4 hours |
| Taste | Pork-flavored Tasty Chew | Liver-flavored chewable tablet |
| Active Ingredient(s) | Fluralaner | Sarolaner, moxidectin, and pyrantel |
| Dosing | 1 tablet lasts up to 12 weeks | 1 tablet per month |
| Age | Dogs ages 8 weeks and older weighing at least 4.4 lbs. | Dogs ages 8 weeks and older weighing at least 2.8 lbs. |
| Manufacturer | MSD Animal Health | Zoetis |
Final Thoughts on Bravecto vs. Simparica Trio
Simparica Trio is somewhat more expensive than Bravecto, but it is well worth the extra money if you value the added convenience of protection against intestinal worms and heartworm disease. It's also important to keep in mind that a single Bravecto dose can offer 12 weeks of parasite protection. Whichever solution you select, you can be confident that your dog is protected against parasites.
We recommend consult a veterinarian if you have any further queries about the best suitable flea and tick treatment for your pet. According to the health and lifestyle of your pet, a skilled veterinarian can advise you on the best course of action.